Episode 7 (BONUS): Live "Apollo Moon Hoax" Talk at Skepticamp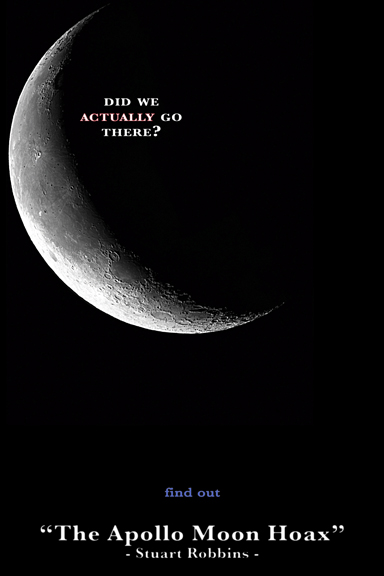 Recap: Stuart gave a live, one-hour talk about the Apollo Moon "Hoax" at the Colorado Springs Skepticamp in Colorado Springs, Colorado, in August 2011. This is the live recording. It has some explicit language.
Additional Materials:
Video Sources

Conspiracy Theory: Did We Land on the Moon? FOX. Perf. Mitch Pileggi. Dir. John Moffet. 2001
A Funny Thing Happened on the Way to the Moon. Perf. Anne Tonelson. Dir. Bart Sibrel. 2001
Penn & Teller Bullshit: Conspiracy Theories Showtime. Perf. Penn Jillette and Teller. Dir. Star Pierce. 9 May, 2005.

Main Debunking Sites
Photography and Data Sources
Relevant Posts on my "Exposing PseudoAstronomy" Blog

Link Page with Posts About the Conspiracy/Hoax
There is no transcript as this was a live talk.
Provide Your Comments:
Comments to date: 4. Page 1 of 1. Average Rating:
Rick K. St. Louis MO

8:45am on Friday, June 21st, 2013

What the "predictors" didn't say was more condemning. By the way, was the spelling "back-peddling" deliberate, making a snarky comment about how they earn income?

Stuart Boulder, CO

6:27pm on Friday, October 14th, 2011

I'm glad you liked the talk. Unfortunately, all of the videos are under copyright so I can't post them (I used them in presentations under educational fair use ideas). And most of the slides have transitions within them to make the points. Releasing the still slides would significantly detract from the presentation, so while I've been asked to do that before, I need to decline.

Carnage Location unknown

3:40pm on Friday, October 14th, 2011

The talk was really good. Could you release the slides of the talk?

Chew Old Saybrook, CT

2:26pm on Sunday, October 9th, 2011

Great episode! You covered the major hoax claims perfectly.